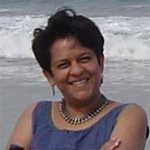 Deepa Krishnan Founder

+91 98677 07414
Deepa Krishnan has a business degree and a love of history. After 15 years working in global banking technology, she set up Pune Magic to offer insightful and interesting tours of the city to overseas visitors.

"There are so many tales and legends of the city", she says, "but to bring that magic to visitors, you've got to love story-telling!"

Deepa describes Pune Magic as "a team of no-nonsense women who love the city and enjoy showing it to people". Pune Magic tours go beyond cliched interpretations of culture to give you an insider view of the city – its people, religions, cuisines, and quirks.

Pune Magic supports Akanksha Foundation, an NGO that works to educate poor children. If you'd like to visit Akanksha, please let us know.